Rules of hell
The rules are easy:
No taksie backsies
Your deck must have a minimum value of 40.000 SEK (avarage 666 SEK with a 60 card deck)
First shuffle, then cut, then ANTE!
The ante card should be hidden until the game has ended
Sign and optionally alter the card you loose
Post your spoils in the spoils of war gallery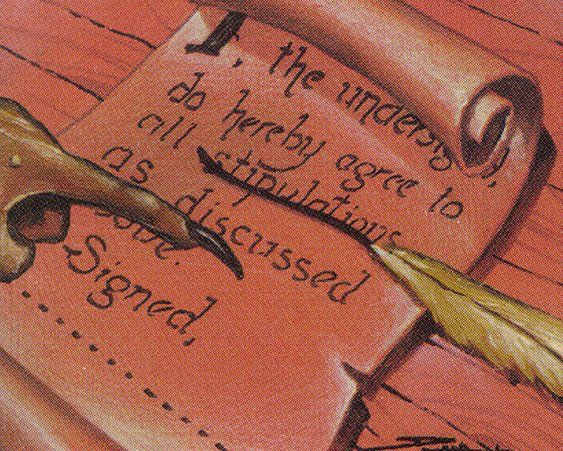 Shuffle, Cut, Ante

No taksie backsies!
Deck cunstruction rules
Only cards from the following sets and expansions are allowed:
– Limited Edition Alpha
– Limited Edition Beta
– Unlimited Edition
– Arabian Nights
– Antiquities
– Legends
– The Dark
– Edgar (Summer Magic)

In addition, follow the ordinary Swedish B&R with the addition of the Usual Suspects


Birdie Clarification
Jeweled Bird is a bit confusing. This is a very common issue:

Q: What if I Disenchant the bird in response to its activation? Or sacrifice it to something?
A: Then the bird goes to the graveyard, no exchange of ante takes place and its controller doesn't draw a card.


Birdie rules
You are only allowed to name a bird if these conditions is met:
* You are the owner of the bird
* The bird does not have a name
* You just lost the bird


Naming of birds
You can name the bird to whatever you like, but it might be a good idea to check out The Bird Watchers Log and choose a name not already in use. Just add "space dash space NAME" after the actual name of the card.
e.g. Jeweled Bird – Coco


Bird in your deck
No one will force you, but it is appropriate to play any named birds above unnamed birds.


Bird Watchers/Owners
Whenever you get a hold on a new bird, please update the bird in The Bird Watchers Log so we can keep track of the birds.